WEALTH MANAGEMENT SERVICES
Our Approach
Our mission is to create and implement a roadmap that will help you achieve and maintain financial security. Our clients come from all walks of life, and our commitment is to provide everyone with the same personalized attention. Above all else, we value the relationships that we build.
Financial Planning Services
Our Financial Planning process is custom tailored to every client we serve. This approach focuses on building a financial plan as unique as you are. We couple financial planning with investment management to help ensure your portfolio aligns properly with your plan. A cohesive plan strives to give you the utmost confidence in achieving your financial goals.
Investment Management Services
Our philosophy is there is no one size fits all approach to investing. We craft portfolios that coincide perfectly with you. To attain the right mix, we analyze your entire financial picture including risk tolerance, life stage and cash flow. Our professional management will give you confidence knowing your investment mix will always suit your goals and objectives
Financial Planning & Consulting Packages
BASIC PLAN
"Getting started organizing and planning your financial future"
ADVANCED PLAN
"Comprehensive approach to fully evaluate and analyze your financial progress"
PREMIER PLAN
"Take complete control of your financial picture and build your legacy"
Meetings: Annual Review & Quarterly Check-in Calls
Meetings: Semi-Annual Review & Quarterly Check-in Calls
Meetings: As-Needed Reviews & Quarterly Check-in Calls
Areas of Focus:
Investment & Goal Planning
Portfolio Analysis
401(k) Allocation Assistance
Risk Tolerance Assessment
Retirement Savings Planning
Cash Flow/Budget Analysis
Behavioral Financial Coaching
Goal Monitoring
Employee Benefits Planning
Personalized Recommendations
Online Financial Portal
Areas of Focus:
Comprehensive Financial Planning
BASIC SERVICES PLUS:
Detailed-Cash Flow Planning
Risk and Insurance Analysis
Life Transition Planning
Retirement Income Strategies
Social Security & Medicare
Education Funding
Tax Planning Strategies
Basic Estate Planning Techniques
Areas of Focus:
Complex Financial Planning
ADVANCED SERVICES PLUS:
Advanced Investment Solutions
Wealth Transfer Scenarios
Family Financial Education
Stock Option Analysis
Charitable Gifting Techniques
Business, Rental, Entity Planning
Advanced Estate Planning
Third Party Professional Coordination
Initial Plan/Setup: $2,500+
Ongoing Planning: $1,000+
Initial Plan/Setup: $5,000+
Ongoing Planning: $2,000+
Initial Plan/Setup: $10,000+
Ongoing Planning: $4,000+
Ongoing Financial Planning & Consulting
After your financial plan is delivered, continue to engage with us to monitor, update, and implement your financial plan for a reduced on-going annual fee with options to pay either monthly, quarterly, or semi-annually.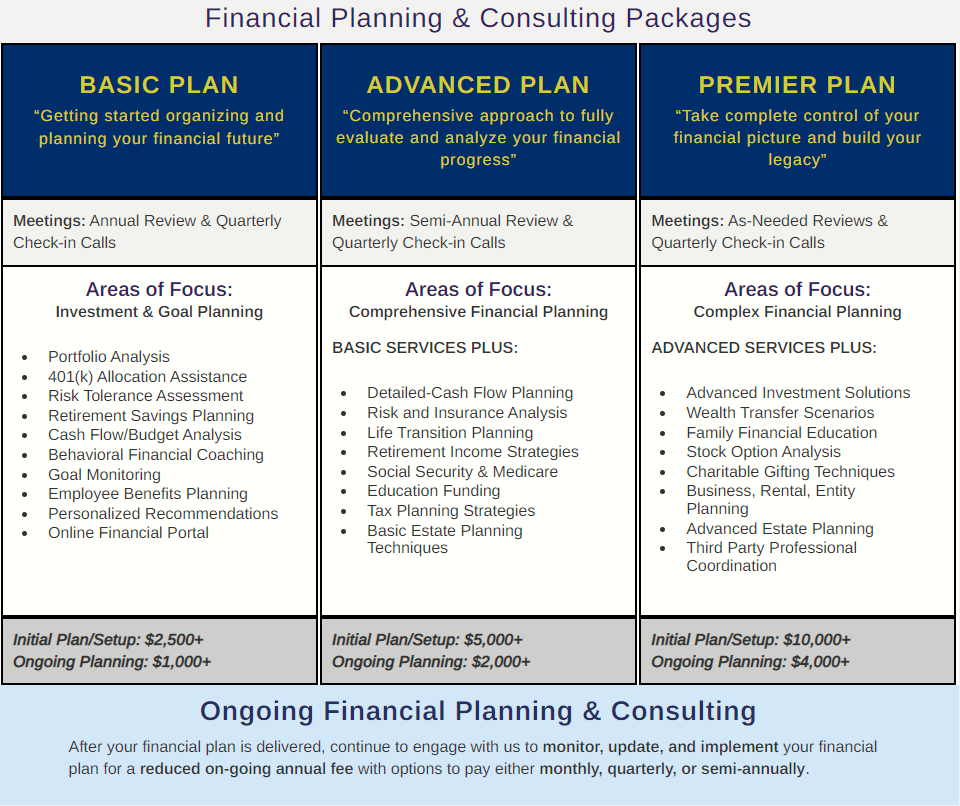 Investment Management Services
Portfolio Analysis
Risk Tolerance Alignment
Time Horizon Review
Investment Selection
Asset Allocation
Rebalancing
Gain/Loss Harvesting
Ongoing Research and Advice
Wealth Management Fee Schedule
Financial Planning Bundle Fee Discount
Investment Management Only